At Hufnagel Tree Service, we are committed to providing the highest quality tree service for the lowest possible price. We are out in the community every day beautifying the landscape for NJ homeowners. This time of year, we get a ton of questions about Christmas trees! So many in fact, we decided to put this helpful article about buying and caring for your Christmas tree.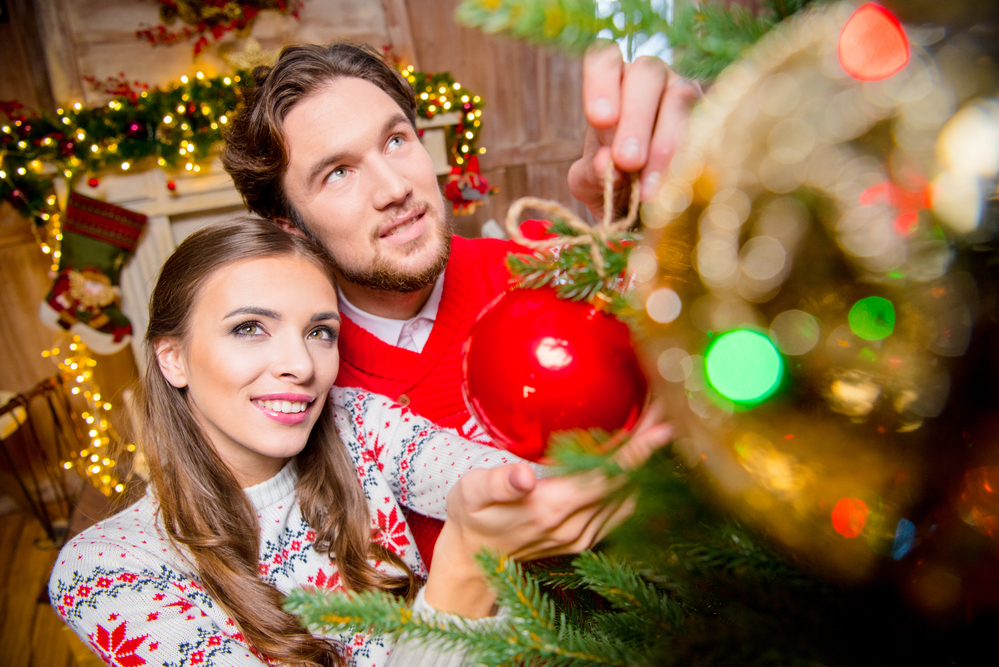 Picking the right Christmas tree is easy in the Garden State. Christmas tree farms across the state offer New Jersey residents many species of beautiful evergreen trees for the holiday. These trees are commonly sold in pop-up locations, big box store parking lots, or directly from the farm.
While many of the trees you see sold locally are also grown in the state, some are not. Christmas trees are cut from mid-November to mid-December, so some may not be as fresh as others. Luckily, Hufnagel Tree Service is here to tell you everything you need to know to pick a tree with confidence! Here you will learn what questions to ask when buying a tree, how to care for the tree you chose, and the difference between common Christmas tree species.
How To Check the Health of a Christmas Tree?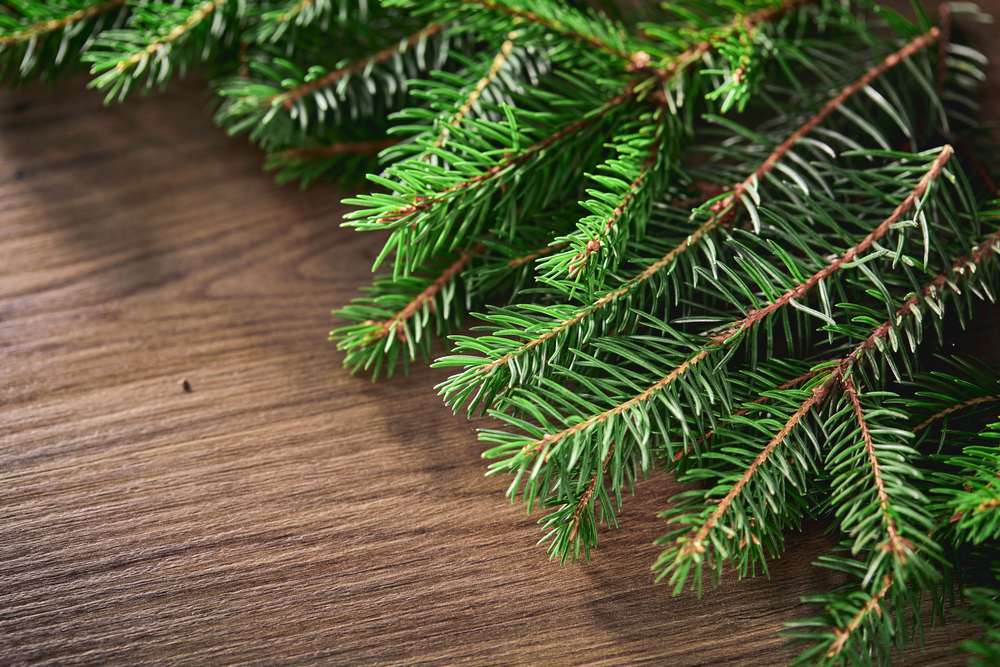 Before we get into it, we want to share three of the most basic tests you should perform on the tree you want to buy.
The first is the "needle test". The "needle test" is where you grab a branch between your thumb and forefinger pull towards yourself. If most of the needles on the branch end up on the ground, you should skip to the next tree. Needles that barely cling onto the branches indicate the tree is dried out, cut a while ago, or just generally past its prime.
The second is the "bounce test". For this test, hold the tree a few inches above the ground and drop it. If the impact of the trunk on the ground causes a lot of outside needles to fall off, keep on looking. It is normal for interior needles to fall off, but a lot of lost needles from outside branches means the tree is not healthy.
The third test is the "smell test". Take some needles from the tress and crush them in your hand. The result should be a familiar strong evergreen scent. Needles that don't produce a strong smell can indicate poor health, and the tree may not last until the new year.
These tests are best suited for pre-cut Christmas trees found at local pop-up tree stands. These kinds of places are most likely to sell trees that have been cut down for a few weeks and may not be the best option.
Questions To Ask When Buying a Pre-Cut Christmas Tree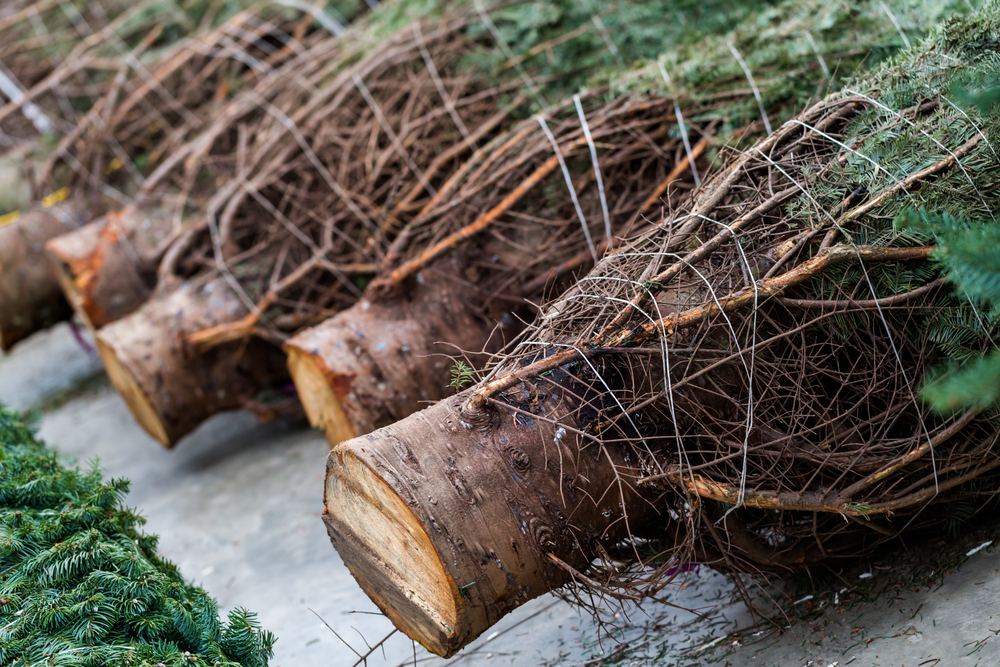 Not all Christmas trees are the same! Just like tree service companies – some are better than others. Knowing the right questions to ask can mean the difference between getting a tree that lasts versus one that doesn't.
Ask where the tree was grown. Locally grown Christmas trees are often fresher and healthier than out of state trees. With such a strong supply of trees in the state, it is hard to imagine a good reason to bring in out of state trees – but people do. Buying local supports businesses in your state and helps to ensure you get a fresh tree that lasts to the new year.
Ask how often they receive new trees. A vendor with limited space often buys a bunch of trees, sells them, and then gets a new shipment. If you see one of these vendors with only a few trees left, instead of picking from that stock – ask when more will arrive. When stock gets low, it is okay to assume those trees have been cut and sitting for a while. If new stock is about to arrive, it's a safe bet the new stock will be fresher (and usually healthier) than the passed over trees in front of you.
If buying a pre-cut tree, ask when the tree was cut. Always choose a tree that was cut down within a week if possible. If the tree was cut down weeks before, it will be hard to preserve its looks through the season.
Ask if they re-cut the tree when you buy it. When you buy your tree, the vendor should make a fresh cut off the base. The National Christmas Tree Association (NCTA) says that if the tree is not re-cut, it may not be able to absorb water at the rate needed and will have a much shorter lifespan.
Asking the right questions will ensure you buy an amazing tree this holiday season!
What to Expect at a Choose & Cut Christmas Tree Farm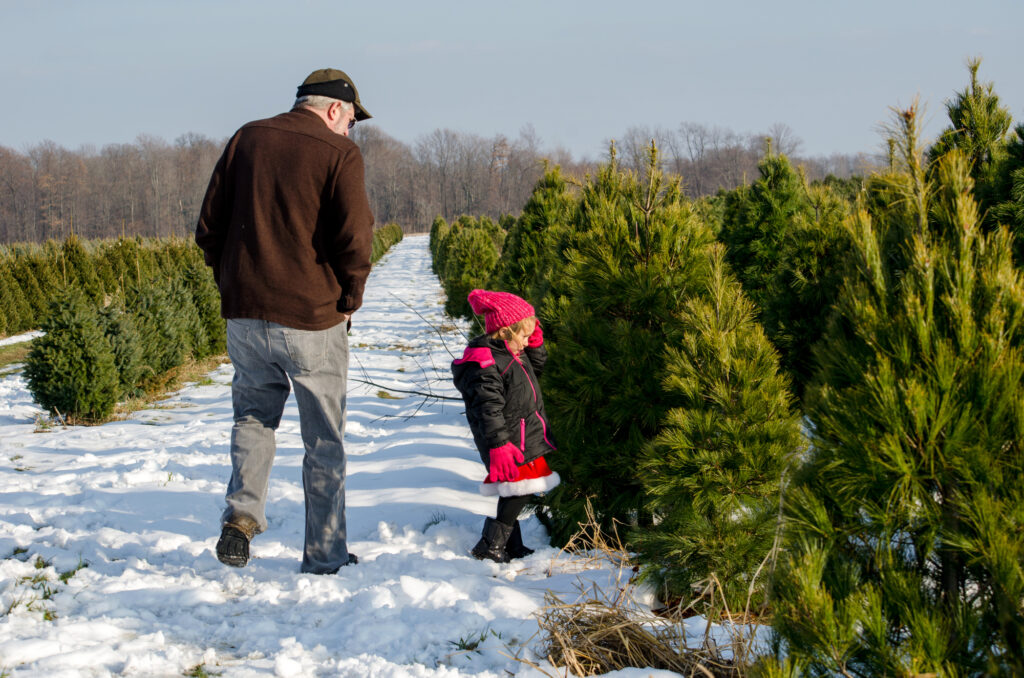 Choose and cut tree farms are a good way to spend quality time with your loved ones and get the freshest tree possible. This method is for the true Christmas tree enthusiast that wants the best tree to stack presents under. While you can expect to put in some extra work, the result can be amazing. Here are some helpful tips to help make buying your freshly cut tree easier this holiday season.
Always be mindful of farm hazards. Always keep an eye out for tree stumps and other trip hazards. Farm equipment, wet or muddy terrain, uneven ground, fire-ants, and sharp saws all have the potential to cause injury. While on the farm, always follow verbal directions, posted signs, or any other special instructions to ensure you and your loved ones stay safe while getting your tree.
Dress appropriately. We recommend wearing comfortable shoes and clothes you won't mind getting dirty. Farms generally take care of the cutting and loading of the tree on your vehicle, but bringing gloves is a smart idea. If you must manipulate the tree on your own, gloves will keep your hands from getting sticky.
Don't assume your dog is welcome. It's best to leave man's best friend at home. First, many farms prohibit pets in the first place. If dogs are allowed, make sure you always keep them on a leash. This will help to prevent your dog from marking trees on the lot.
Ask if you need to bring any tools or equipment. Some farms will allow you to cut down your own tree. These farms usually provide saws. Some farms have staff on site to cut down your tree for you. If you are unsure, always call ahead of time and ask if you need to bring any tools or supplies.
If they let you cut down your own tree, do it the safe way. Cutting down a Christmas tree is safer when two (or more) people are involved. The cutter usually lies on the ground while a helper holds the trunk. While cutter saws the tree, the helper should apply light pressure on the tree to ensure that the saw kerf remains open, preventing the saw from binding. The pressure should be applied to the side of the tree opposite of the cut.
Ask how the tree farm prices their trees. Some farms measure and price trees individually while others sell them by the foot. Asking about the pricing policy before making the trip can help avoid shock at the cash register.
Getting the tree home. Tree farms commonly have a processing area where you pay for the tree and have it wrapped up for travel. The processing area will net the tree so it can be easily affixed to the roof of your car with rope. Netting prevents wind damage to branches while transporting the tree and makes it easier to get off the car and into the house once home.
Newly cut trees won't drink as much as pre-cut trees from local vendors. Trees from a choose and cut farm won't absorb as much water initially as pre-cut trees since it has not had time to dry out. This is normal. Always keep your tree stand filled with water, but don't worry if the water level stays the same for a few days to a week.
Make sure the tree's trunk fits in your stand. Never try to fit an oversized Christmas tree trunk into a stand but cutting away outer bark. Doing this strips the cambium layer from the tree, preventing it from absorbing water.
Trees Commonly Used for Christmas Trees
Fir Trees
Fir trees are a popular choice for the holiday season. The most popular fir Christmas trees noble fir, balsam fir, and Fraser fir.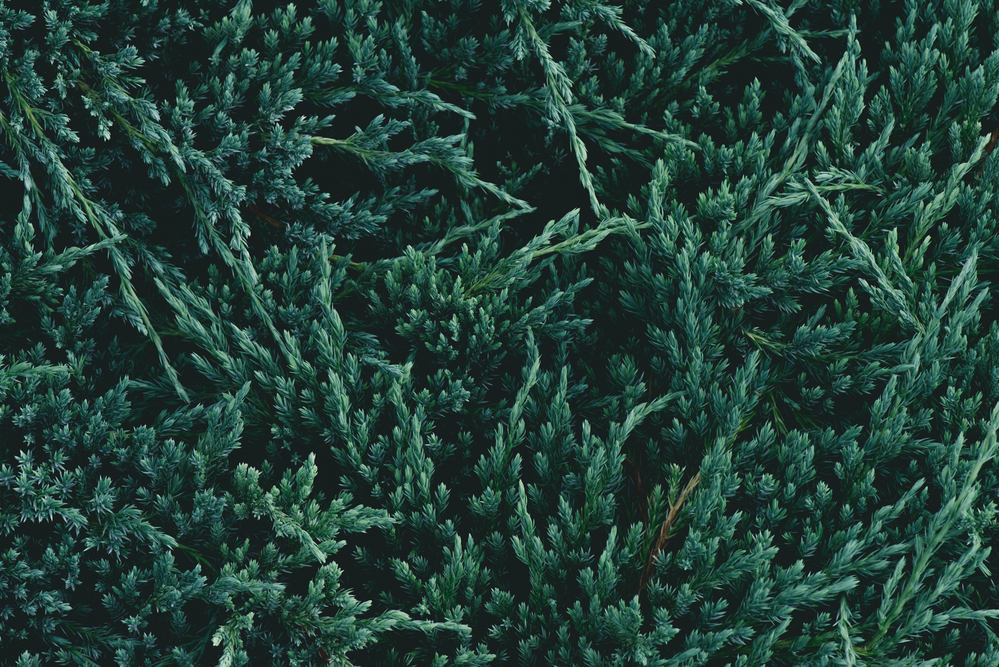 Noble Fir. The noble fir is one of the most popular Christmas trees. Their dense and evenly spaced branches have needle-like leaves that curve upward. These strong leaves make the noble fir an ideal tree to hold all your precious keepsake ornaments.
Balsam Fir. The balsam fir is best known for its conical shape. The dense, dark-green leaves of this evergreen tree are like flat needles. The leaves have a shiny silvery-white appearance. The leaves of balsam fir trees are commonly used for wreaths and bouquets. Balsam fir also have a strong, "classic Christmas" scent as well. This fir is small to medium-sized and can grow to heights more than 60 feet.
Fraser Fir. The yellow-green branches of the Fraser fir have a conical shape with upward angled branches. The branches are known for being very sturdy, making this type of tree a great option for heavy ornaments, garland, lights, and holiday décor. The leaves are needle-like and spiral along the trunk of the tree. In addition to strong leaves and pleasant shape, these trees give off a wonderful fragrant scent. The Fraser fir typically grows up to 50 feet tall.
Pine Trees
Pine trees are the most common coniferous trees. Pine trees are commonly used as Christmas trees.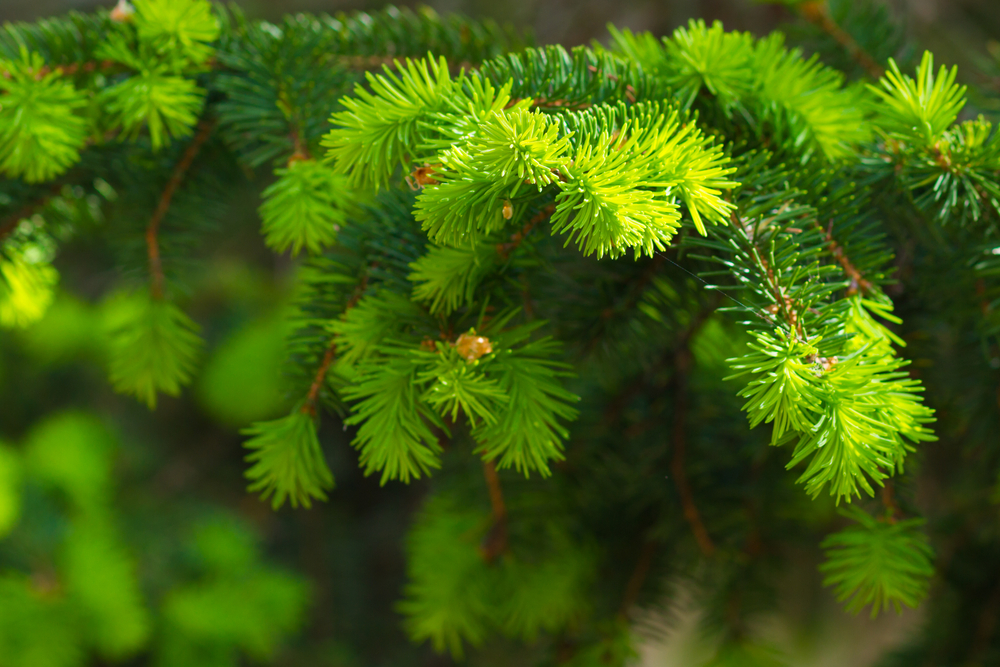 White Pine. White pine trees feature needles that grow in bundles. The branches of white pine trees are flexible and give off little aroma. This type of tree isn't recommended for heavy ornaments, irreplaceable ornaments, or large decorations due to the branches being weaker than fir trees.
Scotch Pine. This pine tree is another common Christmas tree option. The tree's dark green foliage and strong branches make it perfect for plenty of decorations and lights. Scotch pine needles range in color from blue green to a dark green in the winter months and grow in bunches of two. This tree is also known to have excellent needle retention, meaning less clean up when Christmas ends.
Spruce Trees
Spruce trees grow in cooler climates and make excellent Christmas trees.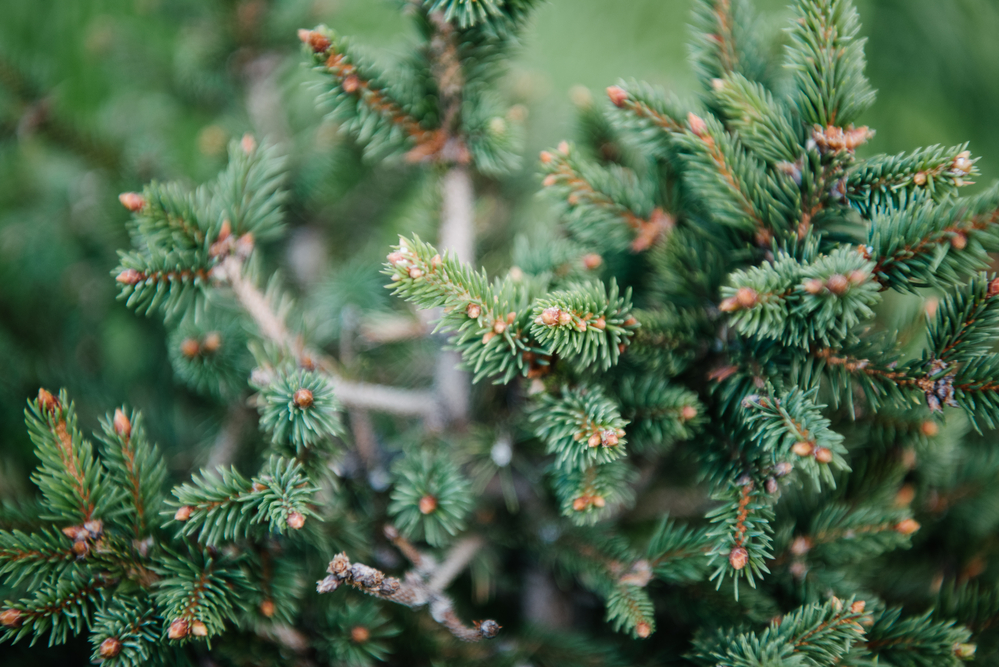 Blue Spruce. The blue spruce, also known as the Colorado blue spruce, is known for its waxy grayish blue needles that curve upwards. This tree is native to the Rocky Mountain area of the US and features dense foliage. This tree's shape has been described as "the perfect Christmas tree shape".
White Spruce. The white spruce is also commonly known as the Canadian spruce, and several other names. The white spruce is a large tree that can grow up to 130ft tall. Its needle-like leaves are short and sturdy. This type of spruce tree is a great option to hold all your ornaments and lights.
No matter what type of tree you choose, all are ready to hold your decorations and beautify your home this Christmas.
How To Care for Your Christmas Tree
Caring for your Christmas tree is an important part of ensuring your tree lasts until the new year. Most times, when a Christmas tree declines in health before the new year, it is due to human error. Let's look at how to manage your tree from start to finish this Christmas season.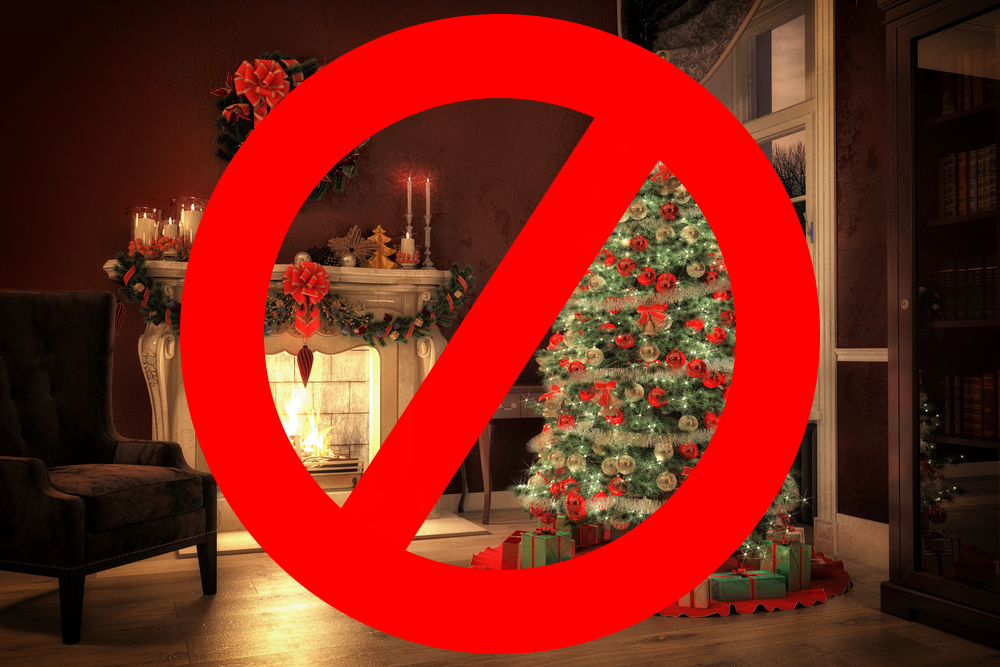 Water your tree as soon as possible after putting it up. Christmas trees you get around town will have dried out a bit. The tree will need a health gulp of water before you decorate.
Use LED lights. Newer LED lights not only save you money but produce almost no heat compared to incandescent lights. The heat from incandescent lights can dry out your tree, leading to needle loss and less enjoyment.
Don't place your tree near a heat vent or fireplace. Placing your tree near heat sources will speed up the rate of drying and ruin the tree.
Check tree water supply daily. Some trees are thirstier than others. Always keep an eye on the water level each day and replace as needed.
Annual Christmas Tree Burn Demonstration to be held Dec. 1
***GREAT PHOTO/VIDEO OPPORTUNITY***
Contact: Stacey Ehling, stacey@princetonsc.com , 609-408-2461.
Wednesday, December 1, at 11 a.m. at the Monmouth County Fire Academy, Route 33 in Freehold, N.J. pic.twitter.com/PbIEHpl1y4

— New Jersey Fire Sprinkler Advisory Board (@NJFSAB) November 23, 2021
How To Dispose of Christmas Trees in Middletown
The Middletown Recycling Center located at 52 Kanes Ln in Middletown accepts Christmas Trees from residents. The center is open from 8:30 a.m. until 4:30 p.m. Thursday through Monday. They are closed on Christmas Day and New Year's Day.
Many towns collect Christmas trees curbside. Check your town's website for more information on how to best recycle your Christmas tree after the holiday.