Monmouth County, New Jersey averages 25 inches of snow each year. Homeowners all around Monmouth County wake up and begin to dig out their car, clear their driveway, throw a snowball, and take in the beautiful views of the snowfall.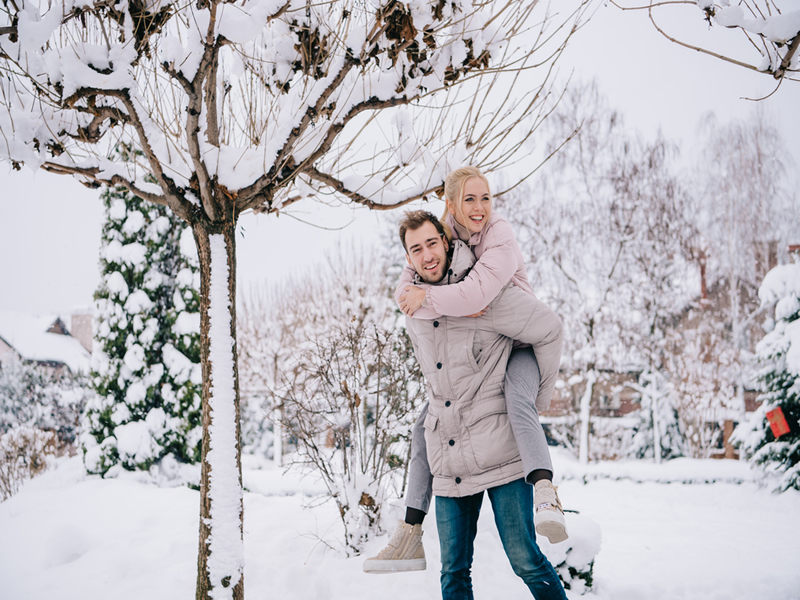 While snow covered trees are a beautiful sight, the heavy snow may be damaging your trees and shrubs. Shrubs can bend and become misshapen under the heavy weight of a large snowfall. Weak tree limbs and branches can fall due to the weight of heavy snow as well.
Falling tree debris is one of the most dangerous aspects of extreme winter weather. Every winter you have to worry about driving on black ice, stepping in wet slushy piles, and bundling up for the winter wind – you shouldn't have to worry about falling trees!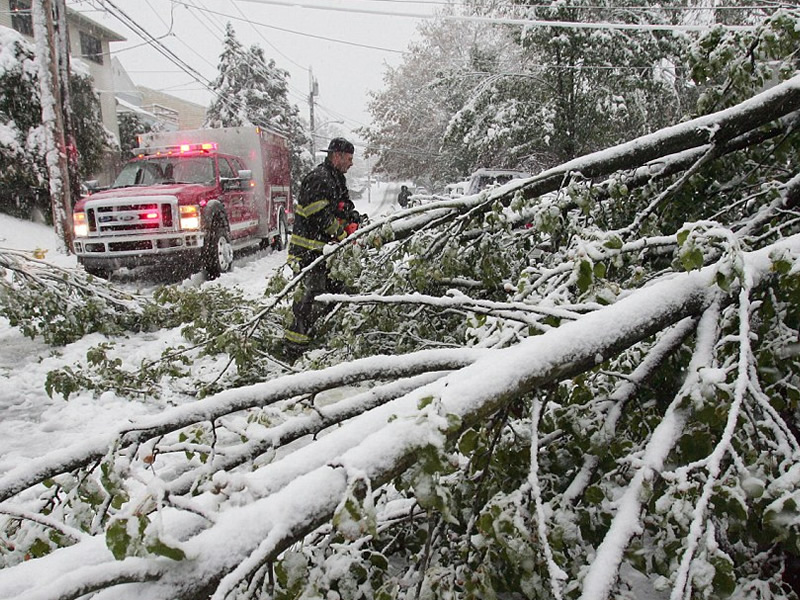 While there isn't much we can do about Mother Nature, there are steps you can take before the winter season to protect yourself and your trees. If more homeowners take steps to prevent damage to trees and shrubs from seasonal weather changes and events, then less incidents would occur. Let's all do our part to ensure a safe winter for, not only yourself, but your neighbor as well.
Common Reasons Trees & Bushes Are Damaged By Snow
A White birch is an ornamental tree with beautiful white colored bark. These birch trees are very flexible, allowing them to withstand high winds. This flexibility allows the birch tree to hold the weight of ice and snow without snapping like other trees.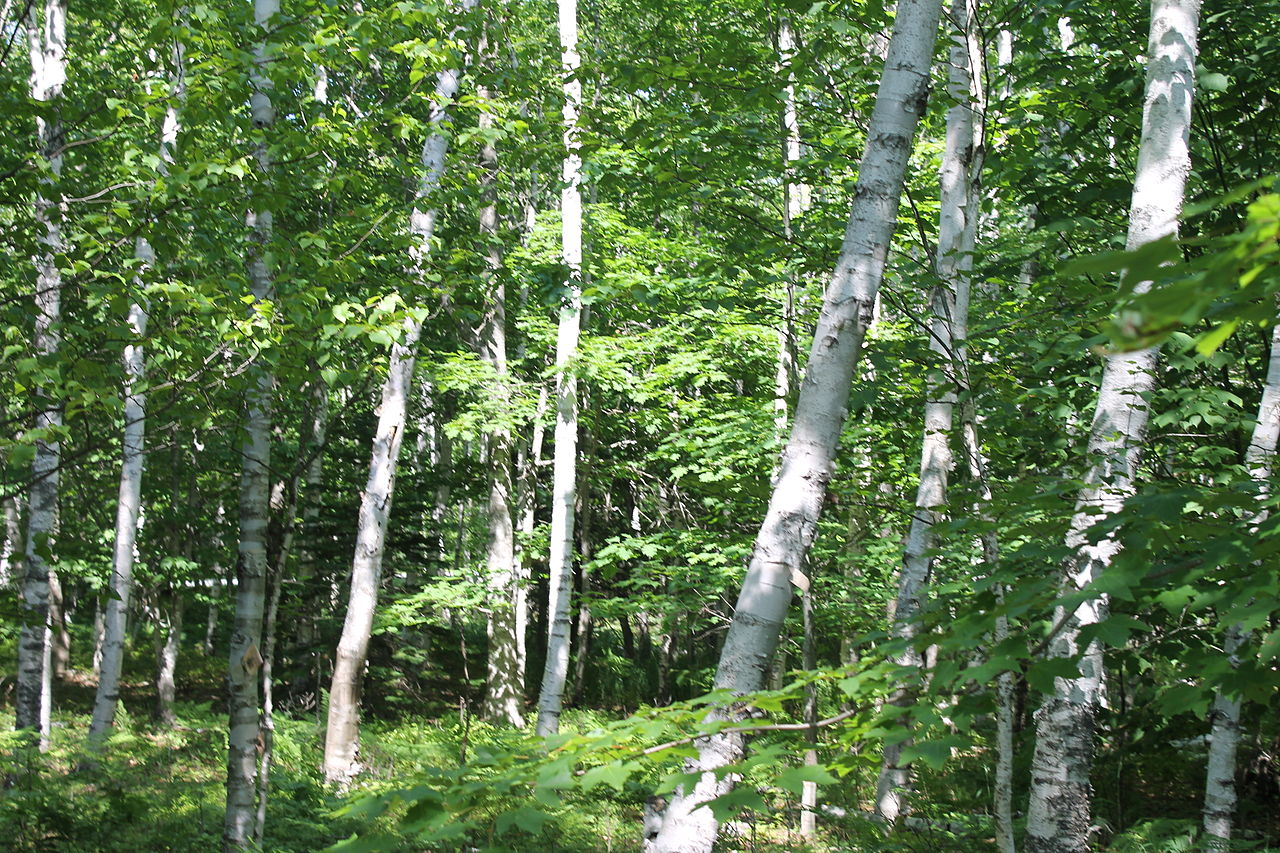 However, while it may not break, it may bend the tree and cause permanent shape changes. Trees such as Elms, Poplars, and Willows have a more brittle wood more likely to fail and break under the weight of snow and ice.
Many shrubs are prone to snow and ice damage because of their size, unique shape, species, and overall health. For example, Evergreen shrubs are easily damaged weight of snow or ice sitting on top of them.
During winter, brown or red dry foliage on an Evergreen is caused by winter burn.
Winter burn occurs when sunlight intensifies the photosynthetic activity and causes excessive water loss. Foliage starts to brown at the tips of branches. It then progresses toward the center of the plant. Affected foliage begins to drop off in spring, which continues through mid-summer. An extreme case of winter burn can kill an entire plant.
While we are pointing out some specific types of trees and shrubs as examples, any tree or shrub can be damaged, die, or fail because of extreme winter weather. We regularly perform tree risk assessments for homeowners who want to ensure their trees and shrubs will be safe from seasonal threats.
Preventing Snow From Bending Your Trees & Shrubs
The best way to fix a bent tree or shrub is to make sure it doesn't bend in the first place.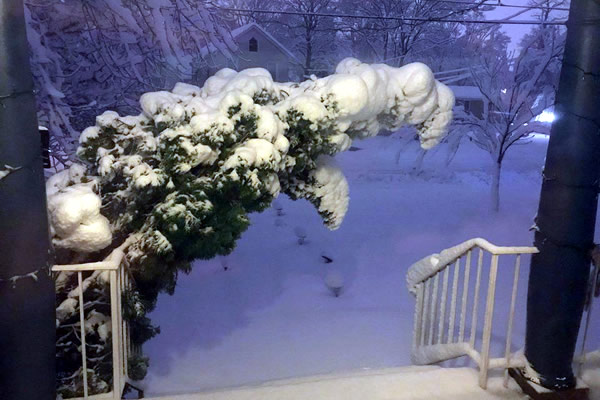 During a snowfall, you can use a broom to remove accumulated ice and snow from tall shrubs and ornamental trees every few hours.
By clearing your shrubs and ornamental trees of snow and ice, they are able to dry out quicker once the snow stops and the sun returns.
Never climb, lean over a railing, or stand on your toes while cleaning snow and ice off. Only clean off the snow you can reach from the ground with a broom safely. Again, this isn't for everyone. Only do this if you are an abled body person capable of going out safely into the inclement weather.
Most people aren't keen on going out in the yard and clearing snow in the middle of a snowstorm. However, if it is snowing hard for a while and you let it all accumulate, your plants will be bearing the weight of that heavy snow for much longer than if you keep cleaning it off.
If you are dealing with an ice storm your trees and shrubs will be coated in ice. You cannot clear off the ice the same way as accumulated snow.
Keep an eye on your trees and shrubs and contact us if you have any concerns.
Shaking off ice may end up causing more damage than just the ice itself.
Snow Proofing Your Trees By Pruning & Trimming
Pruning your trees regularly helps to storm proof them.
Pruning, or trimming, your tree removes defective or weak branches. By removing these limbs and branches, your tree is better able to withstand extreme weather events. These weak limbs and branches can be blown off or fall during high winds, or from the weight of ice and snow. If you remove them, you neutralize the threat and end up with a healthier tree overall.
If you've never had your trees trimmed, there isn't much you can do in the middle of a storm. Instead of waiting for a large storm to take those limbs down, let us! All jokes aside, it is a good idea to have your trees checked by a certified arborist before each season.
Sometimes, pruning is not enough to protect a tree from the elements.
Large weak limbs can be supported using cabling. Tree cabling involves installing a cable onto the limb of a weak or compromised tree and connecting it to another, stronger limb. The cable is flexible, reducing movement and growth. These cables must be adjusted as the tree grows.
If a tree trunk has already started to split, it can be supported using a bracing system. A bracing system is commonly used to reduce stress damage on your tree from high winds, weight of ice or snow, and heavy foliage once it has begun to split.
How To Repair Snow and Ice Damage To Trees & Shrubs
Here are the signs to look for in a storm-damaged tree:
Broken or hanging limbs
Cracks or splits in the tree trunk or limbs
Root system damage
Suddenly leaning or tilt
Now that you know what to look for, what should you do?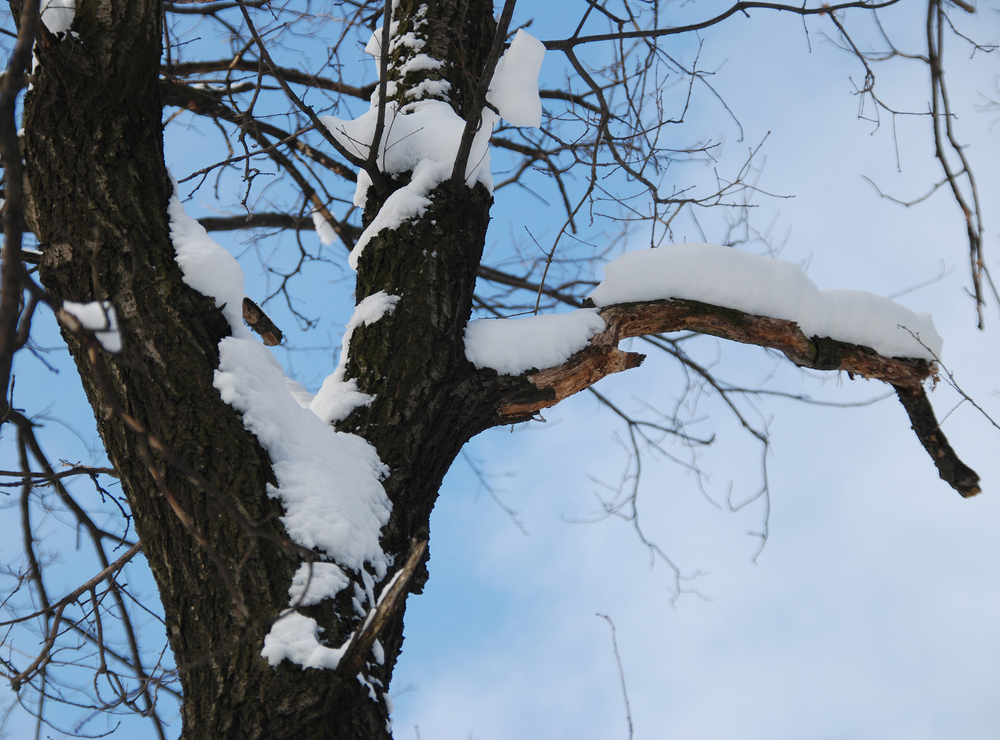 Typically, repairing a storm-damaged tree can be as simple as by removing any damaged or compromised limbs, and pruning any small, broken branches. It is easier for pests and disease to take advantage of a damaged tree. Regular pruning will allow the tree to heal faster.
When a large limb falls off naturally, the tree can heal itself. However, this isn't always the case with limbs blown off by high wind. They often break off in a way that is not conducive to healing. A certified arborist will need to assess the damage and take the necessary steps to help the tree recover. A severe wound to the tree could affect its lifespan. In extreme cases, the tree may not recover. In that case, the tree should be removed.
We typically remove trees that pose a high risk of failure. For a seriously damaged tree, removal can be the safest choice.
Never Repair Storm Damaged Tree & Bushes On Your Own
Repairing a storm damaged tree can be dangerous. We work tirelessly to maintain our professional certifications for a reason. Tree work should definitely be left to professionals. We have the know-how to do the work safely, and without damaging your property.
Many people have been seriously injured by damaged trees after the storm has passed. There may be damage you cannot see with an untrained naked eye.
Reasons To Call A Professional To Fix Snow Damage
When it comes to snow damage, you want to have your trees repaired as soon as possible. You will want to enjoy your views as much as possible in the spring, so make sure you use a reputable tree service company (like Hufnagel Tree Service).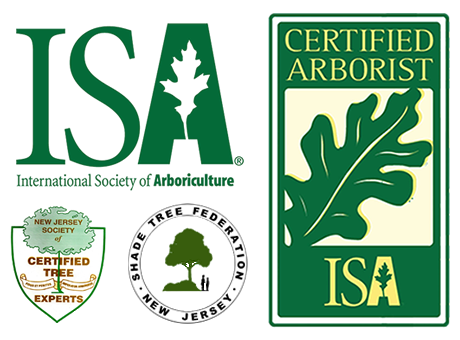 Never hire a hassle! Hiring a tree care company that has a certified arborist on staff will make a huge difference in the quality of work. A true tree care expert is going to be able to look at your landscape as a whole and provide the best possible recommendations to repair any damaged trees, and prevent damage in future storms.
When it comes to the health of your trees, protecting them from extreme weather, and repairing them if something goes wrong, look no further than Hufnagel Tree Service.
Whether you have a tree that was damaged this past summer, or you just want to have us take a look at all your trees, give us a call to schedule service.
Schedule A FREE No-Hassle Inspection
"Only Use A Certified Arborist"